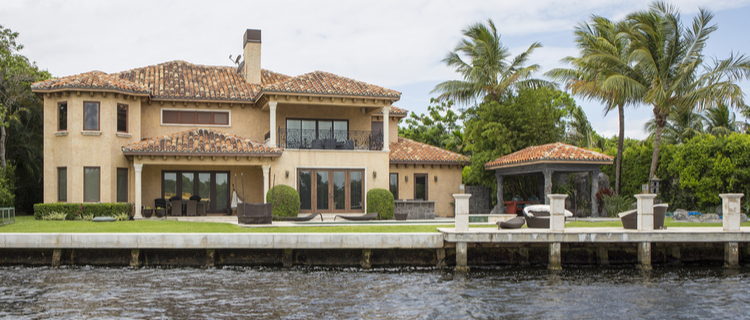 Jumbo Loan With 10% Down Payment
Buying a luxury home could eliminate the need to invest a substantial amount of money into a fixer-upper property. Whether financing is required to purchase a home in Orlando or in Miami, attractive programs are available for qualified buyers. First Florida Financial offers mortgage applicants a competitive jumbo loan with 10% down payment.
What is the Jumbo Loan Limit?
As determined by the Federal Housing Finance Agency for Fannie Mae and Freddie Mac, any loan amount that exceeds the conforming limit of $453,100 will require financing via a jumbo mortgage loan. In certain high-cost areas throughout the nation, the conforming loan limits may vary from city-to-city — to a maximum amount of $679,650. The conforming loan limit is subject to annual or periodic changes.
Get Pre-Qualified for a Jumbo Loan With 10% Down Payment
Completing a jumbo mortgage loan application online will enable a licensed loan officer to determine if a financing opportunity exists. Remember to request the desired loan amount, after deducting the 10% down payment from the purchase price.
For instance, if the plan is to buy a home for $600,000, request a loan amount for $540,000.
Providing the income, employment and the personal information for each borrower who is listed on the loan application is recommended for obtaining the maximum level of consideration toward a jumbo mortgage pre-qualification.
A prompt review will be conducted to determine if the prospective borrower qualifies for a jumbo loan with 10% down payment.
SEE TODAY'S JUMBO MORTGAGE RATES
Source of Funds for a Jumbo Mortgage Down Payment
When seeking to buy a home in Florida, the lender will verify that the borrower has enough money for a jumbo loan with 10 percent down payment. Providing proof of funds from any of the sources shown below could satisfy the underwriting condition.
Bank statements
401K statements
Investment statements for liquid assets
Gift letter from a relative
In addition to sourcing the funds used to buy a home, a lender will check the seasoning of the funds. For instance, if a borrower's savings account reflects a transaction, such as a $30,000 wire that was received three weeks before settlement, the lender is likely to inquire about the nature of origin for the deposit.
However, if a borrower recently sold her home and the title company sent the wire to her bank account, a copy of the HUD-1 Settlement Statement may be used for documenting the deposit.
Funding sources are carefully reviewed for a jumbo loan with 10% down payment, as a borrower will need more than twice as much money as he would need to supply for a 5% down jumbo mortgage or toward a conventional mortgage loan.
Our loan officers are knowledgeable, courteous and ready to provide outstanding service for applicants who want to buy a home in Florida or to refinance.
Contact First Florida Financial Group today at (877) 424-4562 for more information about jumbo mortgage loans.