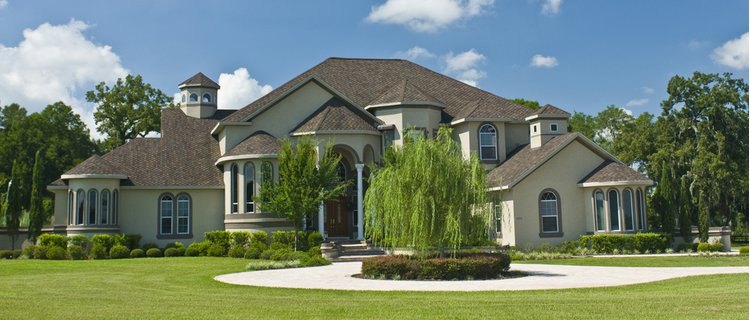 Florida Jumbo Mortgage Refinance Rates, Jumbo 30 Year Fixed Rates
What is a Florida Jumbo Mortgage Refinance Loan?
A  jumbo mortgage refinance loan provides financing for loan amounts higher than the maximum conforming loan limits set by Fannie Mae and Freddie Mac. If a loan amount is higher than $453,100 then neither of the two government-sponsored entities will purchase that loan. Typically, both Fannie and Freddie buy the bulk of U.S. residential mortgages from banks and other lenders, freeing up liquidity to lend more mortgages.  A conforming first mortgage along with a home equity line of credit can provide greater payment flexibility. Both are available for purchase and refinance loans (including cash-out refinances).
Jumbo Loan Refinance Rates
Most of the time, jumbo mortgage refinance rates are somewhat higher than rates on comparable Fannie & Freddie insured loans. That's because Fannie Mae & Freddie Mac guarantee their loans for lenders, which helps keep the mortgage rates low. Jumbo mortgage loans don't have that kind of backing, so lenders assume all the risk themselves.
Jumbo Home Loan Mortgage Refinance Options
95 percent loan to value with a 680 Credit Score.
90 percent loan to value with a 620 Credit Score.
80 percent loan to value on Second Homes.
90 percent loan to value on Jumbo Condo Loans.
What are the Jumbo Refinance Loan Requirements?
680 minimum credit score.
4 months reserves (cannot be gifted funds).
Florida properties only on condos, single-family homes, and townhomes.
4 to 5 year waiting period for prior foreclosures, short sales, and bankruptcies.
43% maximum DTI.
Why Should You Choose Us For Your Florida Jumbo Mortgage?
Are You Concerned You May Not Qualify for a Home Loan Because?
Debt to Income Ratio is too High.
Credit Scores are a little Too Low, not to worry we can do a Rapid Rescore.
Prior Foreclosures, Short Sales or Bankruptcies.
Prior Mortgage Late Payments.
Don't have Enough Reserves.
Not to worry our Loan Officers overcome these problems all the time, We know the Florida 10% Down Payment Jumbo Mortgage Loan Business and can Close Easy, Complex and Tough Deals.
We do this by utilizing our "Outside The Box Thinking" to get you pre-qualified for the maximum loan amount possible while keeping your 10% Down Payment Jumbo Mortgage Loan down payment and closing costs as low as possible.
Don't just take our word for it, check out our prior client reviews!