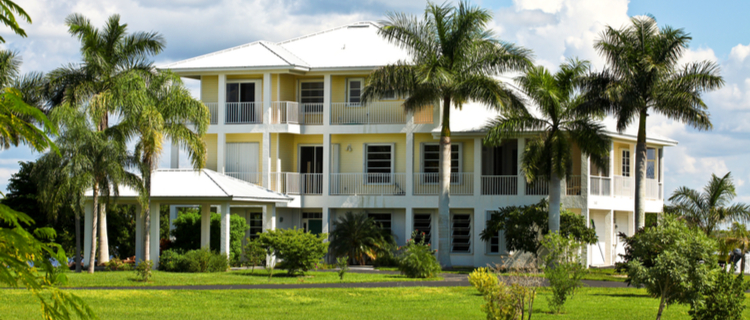 Florida Jumbo Mortgage Rates
Local lenders provide attractive jumbo mortgage rates in Florida. Financing is available for qualified first-time homebuyers and for previous homeowners. First Florida Financial Group offers competitive pricing on Florida jumbo mortgage rates.
What is a Jumbo Mortgage Loan?
A jumbo mortgage loan provides financing that exceeds conforming lending thresholds.
For instance, a buyer is purchasing a home for $600,000. After he makes a 10 percent down payment toward the purchase price ($60,000), the remaining balance ($540,000) that is due to the seller may be covered with a 10% down payment jumbo mortgage loan.
We offer attractive mortgage interest rates for homebuyers who need non-conforming loan products to purchase properties that are higher than the conforming lending limits.
Loan Limit Increase for Florida Jumbo Mortgage Rates
According to the Federal Housing Financing Agency, the conforming loan limits will increase to $484,350 in 2019, which is nearly a 7% increase above the $453,100 conforming lending amount for 2018.
Home loans that do not exceed the conforming loan limits are generally purchased by Fannie Mae or Freddie Mac. The loans are typically bundled and sold to investors in the secondary market.
Florida jumbo mortgage rates in 2019 will be available for loan amounts that are above the conforming lending limit of $484,350.
Get a Low-Rate Jumbo Mortgage Loan
Whether buying a home in Orlando or in Miami, a low jumbo mortgage rate could result in an affordable monthly payment. When searching for a mortgage, it is a good idea to review several loan terms and various down payment options.
Speaking with an experienced lending professional about Florida jumbo mortgage rates is an excellent way to get the ball rolling.
Calculate a Jumbo Mortgage Payment
When shopping for a home loan, a mortgage calculator is a very useful tool.
After entering the jumbo mortgage interest rate, the loan term and the loan amount, a calculation may be performed to determine the monthly jumbo mortgage payment.
Considerations
Securing a rate lock can provide some reassurance against rising mortgage interest rates.
A favorable interest rate on a jumbo mortgage loan can provide a home buyer with some substantial savings.
Over a 30-year term, a quarter-point savings on a jumbo mortgage loan could save a home buyer more than $25,000.
Our lending experts are knowledgeable about the home buying process and available to discuss today's Florida jumbo mortgage rates.
Contact First Florida Financial Group for more information about Florida jumbo mortgage rates and low down payment financing programs.