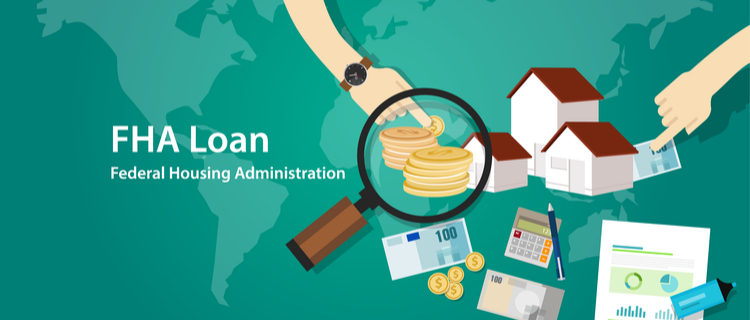 FHA Loans
What Is a FHA Loan?
An FHA loan is a mortgage issued by an FHA-approved lender and insured by the Federal Housing Administration (FHA). Designed for low-to-moderate-income borrowers, FHA loans require a lower minimum down payments and credit scores than many conventional loans.
FHA loans allow you to borrow up to 96.5% of the value of a home with an FHA loan (meaning you'll need to make a down payment of only 3.5%). You'll need a credit score of at least 580 to qualify. If your credit score falls between 500 and 579, you can still get an FHA loan provided you can make a 10% down payment. With FHA loans, your down payment can come from savings, a financial gift from a family member or a grant for down-payment assistance.
All these factors make FHA loans popular with first-time homebuyers.
FHA Loan Down Payment Requirements Requirements
3.5% Down Payment can be gifted.

Seller up to 6% are allowed.

Credit Scores as Low as 620.

3 year waiting period for prior short sales and foreclosures.

We don't do manufactured home loans.
Minimum loan amount 150,000.
How does an FHA Loan work?
A Florida FHA loan requires that you pay two types of mortgage insurance premiums—an Upfront Mortgage Insurance Premium (UFMIP) and an Annual MIP (charged monthly). The Upfront MIP is equal to 1.75% of the base loan amount (as of 2018). You pay this at the time of closing, or it can be rolled into the loan. If you're issued a home loan for $350,000, for example, you'll pay an UFMIP of 1.75% x $350,000 = $6,125. The payments are deposited into an escrow account set up by the U.S. Treasury Department, and the funds are used to make mortgage payments in case you default on the loan.
HOW LONG YOU PAY THE ANNUAL MORTGAGE INSURANCE PREMIUM (MIP)

TERM
LTV%
HOW LONG YOU PAY
THE ANNUAL MIP

≤ 15 years

≤ 78%

11 years

≤ 15 years

78.01% to 90%

11 years

≤ 15 years

> 90%

Loan term

> 15 years

≤ 78%

11 years

> 15 years

78.01% to 90%

11 years

> 15 years

> 90%

Loan term
FHA Loan Limits
One limitation of FHA loans is that they have outside limits on how much you can borrow. These are set by the region in which you live, with low-cost areas having a lower limit (the "floor") than the usual FHA loan and high-cost areas having a higher figure (the "ceiling"). Then there are "special exception" areas – including Alaska, Hawaii, Guam, and the U.S. Virgin Islands – where very high construction costs make the limits even higher. Everywhere else, the limit is set at 115% of the median home price for the county, as determined by the U.S. Dept. of Housing and Urban Development. The FHA website provides a page where you can look up your county's loan limit.
2019 FHA LOAN LIMITS

PROPERTY TYPE
LOW-COST AREA
'FLOOR'
HIGH-COST AREA
'CEILING'
SPECIAL EXCEPTION
AREAS
One-Unit

$314,827

$726,525

$1,089,787

Two-Unit

$403,125

$930,300

$1,395,450

Three-Unit

$487,250

$1,124,475

$1,686,700

Four-Unit

$605,525

$1,397,400

$2,096,100
Why Should You Choose Us For Your FHA Loan?
We work for You & Not the Bank.  When working with us, your not "stuck" with ONE bank's restrictive set of underwriting guidelines, which can put caps on your debt to income ratio or require a lot of mortgage reserves! We always seek out the best lender to suit your specific situation and find lenders with the Best FHA Loan Rates! Oh, Ya we don't keep bankers hours we always answer your phone calls and text messages in the evening and on the weekends…. because we don't get paid a salary…. we only get paid when your loan closes and most of the time we get paid by the lender and not by you!
We offer the Best FHA Loan Rates!
Our "Outside The Box Thinking"  gets home loans approved and closed every day through a variety of unique loan products! One-Year Tax Returns, Cross Collateralizing Properties, Assets as Income, Bank Statement as Income, and No Income Verification Investment Loans. Along with our years of experience and understanding tax returns, knowing what expenses to add back in and how to stretch your funds to pay off debts to reduce your DTI. If necessary, we can try to increase your credit score, then do a rapid credit re-score.
Get Pre-Qualified Fast, see you're credit scores immediately, and close in 30 days or less with our E Zip Mortgage! It's all online, reduces paperwork, and provides you with a secure, collaborative document upload portal that regularly notifies you via text messaging & emails with all loan updates. Get Started Now!
Our Professional and Experianced Team of Loan Officers are ready to help your FHA Loan .